If you've been reading this blog for a while, you'll know that I believe most datahoarders should buy a server. What I find is that most new datahoarders start out buying external hard drives. Some of them buy internal drives and load up their desktop PC. In the end however, those who are most serious about datahoarding end up buying a server. If you feel like you're going to get into this seriously then skip the amateur stages and just buy a used enterprise server!
There are a number of places to find cheap or sometimes even free second-hand servers. If you've been in the hobby a while, you'll probably know where to look, but most newcomers have no idea and always ask "Where can I buy a used server?"
This list is by no means exhaustive but it includes the places that either I personally, or someone I know. has had lucking finding decent used or refurbished enterprise servers and hardware in the past. Just to keep you enticed, this list is in no particular order.
1 – eBay
That's right, I'm sure you could have guessed this one. eBay is the place most people think of when looking for a secondhand item and servers are no exception. I've had many great deals from eBay over the years and it seems more and more small businesses are turning to it when they have used servers or other hardware that's no longer needed.
The main benefit of buying your server from eBay is that you have some protection. If you buy a server listed as being "in working order" but it arrives and is dead, you're protected. The eBay buyer-protection scheme means that you can return the server and get a refund. Prices on used servers can creep up so you definately don't want to be taking the risk of buy a faulty one if you can avoid it. Another benefit of using eBay is availability. No matter which make or model of server you're after, there's a pretty good chance they'll be one for sale of eBay. With other sources, you'll likely have to be patient and wait for weeks or months before the used server of your dreams comes up for sale.
Like most things in life, however, it's a compromise. There are a couple of downsides to using eBay. Firstly, the price you pay can be quite high. Auction fever is a real thing and used servers that should really go for a few hundred USD can sometimes be bid-up to twice that amount. I've actually had more luck searching the "Buy it now" items, finding servers that were fairly priced. Sometimes you'll see servers on auction with a high number of bids whilst there's an equivalent or even better model, for sale with "Buy it now", at a lower price!
Another downside to buying a used server from eBay is that they weigh a lot. The best deals you find are likely to be across the country and will require shipping. As you can imagine, the weight of an old server means the shipping costs can be significant. We all get lucky once in a while though and a few times I've found cheap servers within driving distance.
| | |
| --- | --- |
| Pros | Cons |
| Most makes and models of server can be found easily | Prices can be high. Especially on "auction" items |
| Buyer protection against your server being DOA | Shipping will be expensive, as servers tend to weigh a lot |
Pros and cons to buying a used server from eBay
2 – Classified Sites
Regardless of your whereabouts in the world, you'll likely have a choice of websites displaying classified ads. In case you're unaware, the concept is similar to the old classified ads that newspapers ran back in the day. Anyone can run an ad, usually offering something for sale, but even sometimes "wanted" ads. Traditionally there has been a cost to place these ads but nowadays lots of websites provide this service for free.
I am based in the UK, so I usually turn to Gumtree. If you're in the US, Gumtree is the equivalent to Craigslist. I've had a couple of decent servers from Gumtree over the years, one of them was even free, the seller just wanted it out of his way. Unlike eBay, you're more likely to find servers close-by, for collection. The prices tend to be lower but if you're looking for a specific model, you'll likely have to be patient.
Whilst writing this, I just performed a quick search on Gumtree for servers listed nearby. As you can see there are a number of reasonably priced servers, all listed for sale earlier today: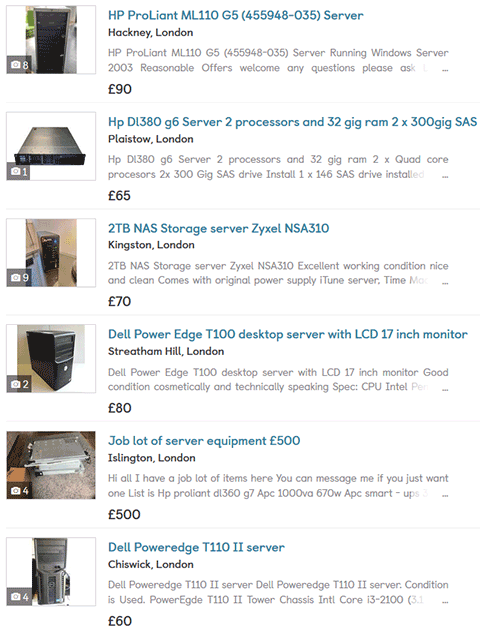 Gumtree and Craigslist are just two classifieds sites out of thousands and I'm just using them as an example. If you're not aware of any classifieds sites that are popular in your country/area, then just search Google.
Unlike eBay, payment for items bought on a classifieds site is often made in cash. This means you won't enjoy the buyer protection from PayPal should the server not work. If possible, ask the seller if you can power-on the machine before you part with your cash. In the past, I've even taken a small 15″ LCD monitor with me, along with a mini keyboard & mouse. This lets you quickly boot the server and check the health status.
| | |
| --- | --- |
| Pros | Cons |
| Servers are often lower priced of even free. There's no auction-fever driving prices up | You may have to be patient if you need a specific make or model |
| You'll likely be collecting the server yourself, so no expensive shipping | Sales are usually cash-only so you don't have protection if the server is faulty |
Pros and cons of using a classified site to find your next used server
3 – Physical Auctions
In the world of eBay, it's easy to forget that real, physical auctions are still a thing. I remember years ago, I used to drive all across the city visiting auction rooms, sometimes several in a day. I would make a "Lovejoy" reference here but I suspect it would be lost on our younger and/or non-British readers. Anyway, the point is there are still a lot of traditional auctions and some of them even specialise in used enterprise IT hardware. Things have moved on somewhat, and you can quite often bid online or over the phone if you can't make the sale in person. About a year ago, I was browsing the catalogue of an auction around 30 minutes from me and I snagged a real bargain. It was a mint condition HP Proliant DL380p with 24TB storage. It was an 8th generation which is a few years old but I still thought it would go for a few hundred pounds. I placed a cheeky online bid of £100 (130 USD approx.) the day before the sale and to my amazement, I was the winning bidder!
I'm only familiar with the UK market I'm afraid, so you'll need to Google auctions near you if you're not from my country. I appreciate that the UK is relatively small so I can usually find a few auctions within an hours drive. This is unlikely to be the case if you're in the US, Canada, etc. It's worth checking however, you might be lucky.
A couple of my favourite auction directories in the UK are BidSpotter and BPIAuctions. Just for fun I searched for "server" on Bidspotter and sure enough, there are plenty of potential bargains close-by. I'm actually a little tempted: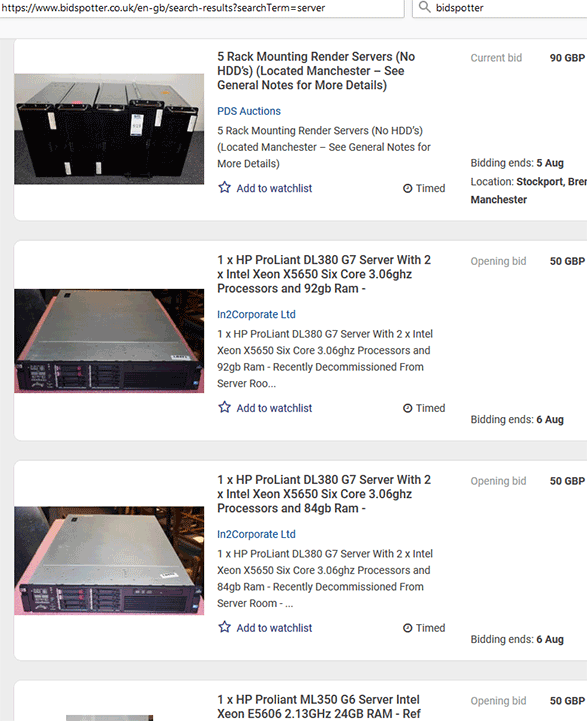 One thing to bear in mind is that the bid price is often exclusive of tax and also a fee known as the "Buyer's Premium". BPI for example, typically charge a Buyer's Premium of around 20% on the hammer price, alongside 20% VAT (value-added tax). For example, if you picked up a cheap server for £100, it might end up costing you around £144 after the Buyer's Premium and VAT. Please don't take this as Gospel, you should always review the terms of the auction before bidding.
Something else to note is that you generally have a tight window in which to collect the item. This is usually one week, but I've seen auctions where you must collect your items on a specific named date in the future. This is often because businesses are closing down or relocating and timescales are tight. You need to keep your wits about you as the people running or frequenting these establishments can be slippery types, to say the least. If you shake hands with one of them, remember to count your fingers afterward.
| | |
| --- | --- |
| Pros | Cons |
| There are real bargains to be had | You'll need to be flexible as collection dates are strict |
| | You need to remember to factor in fees and taxes |
Pros and Cons of buying from a general auction
4 – Smartphone Apps
Similar to classified ad websites, there are now a number of smartphone apps specifically designed for buying and selling. If you've got a smartphone, head over to your App Store and search for "buying and selling". If you're based in the UK like myself, then I can recommend "Shpock" and "Preloved". These are my two favourite buying and selling apps in the UK and they're both available on iOS and Android.
Upon launching these apps, they'll ask for permission to access your location or GPS. After allowing this, you'll be shown a listing of all the items for sale nearby. Most of the items will be junk (old clothes, bicycles, etc). You'll want to either filter by category (choose Computers/IT) or simply search for the word "server". If you don't get many hits, perhaps increase your search radius slightly.
The apps target individuals who are "having a clear-out", rather than businesses so you tend not to find the same number of servers or other enterprise hardware devices as elsewhere. The plus-side is that if you're patient, you find that the prices for used servers on these apps tend to be very low. As not many people are searching these apps for servers, competition is low and the prices reflect this.
Here is a screenshot of the Preloved app running on my Android phone, displaying the local results for "server":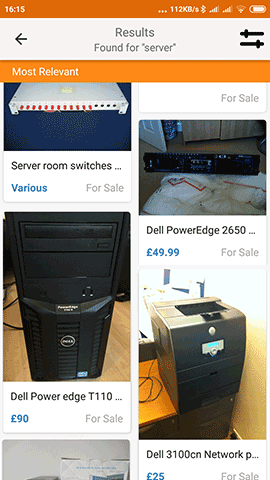 If you're not used to these sorts of buying and selling apps, you might think some of the results look a little strange. For example, people always seem to want to photograph their server whilst it's balanced on their bed or coffee table. As I say, these are amateur sellers rather than big businesses. I've never had an issue buying hardware from either Shpock or Preloved, it's always worked as described. Occasionally, you'll find a real non-techie seller and they'll just list it as "a computer server", with no specs or anything. Sometime a couple will divorce and the wife will just list her ex's server for sale with no mention of CPU, RAM, HDDs. etc.
| | |
| --- | --- |
| Pros | Cons |
| Very low prices on used servers as potential buyers are limited | Sellers are private individuals so there's a lower number of servers for sale at any one time |
| Occasionally you find a "mystery" server for sale with no specifications listed – how exciting! | The used servers tend to be older generations |
Pros and cons of smartphone apps such as Shpock and Preloved
5 – IT waste recyclers
IT waste recyclers are businesses that'll dispose of all the old hardware of other businesses when it's no longer needed. Sometimes the recyclers pay the other business, in effect buying the hardware from them. Other times, the business with the old hardware will let the recycler take it for free. Occasionally, businesses will even pay the recycler to take the old equipment away. The latter tends to be the case when the hardware is really old and/or non-functional.
If you've got a recycler in your area, it's well worth giving them a call or checking if they have a website where they list stock. Quite often they'll clear out entire server rooms during hardware upgrades or refreshes. The age and quality of the used servers of course depends on where they've been rescued from. I've noticed that if the servers have come from a school or local government department, that they'll generally be fairly old and not very energy efficient. The hard drives (if they haven't been destroyed) will be small too. If on the other hand, the servers have come from a large corporation or even an SME, they tend to be newer and have better specifications. For example, when the HP Proliant Gen 9's were released a few years ago, a local recycler had a tonne of Gen 8's that a big business had decided to get rid of. They were really well priced considering they were only a couple of years old so I picked one up.
If you're not aware of any recyclers in your area then again, you'll have to turn to Google. Search for terms like "IT Asset Disposal", "Computer Disposal", "Electrical Waster Removal", "Data Destruction", along with your town/city. There's a good chance they'll be one nearby.
Also, we should be responsible and make sure whoever we're buying our refurbished server from is registered. In the UK, IT recyclers need to be registered with the government and adhere to WEEE. This helps make sure that useless hardware is actually recycled and not just put into landfill.
Conclusion
As you can see, there's more than a single place to find your dream server. Over the years I've successfully found servers from all of these sources. If I'm searching for a particular model or generation of server then I must admit, eBay is my go-to choice. Nowhere else really has the variety of used hardware that eBay does. If I'm feeling adventurous then I'll browse the other sources I've listed and quite often I'll end up buying another server that I didn't know I needed. One thing I've not talked too much about in this post is finding rack-mounts or server cabinets. The same principals apply however, they're just a lot more difficult to transport or ship than even the heaviest of servers.