Most of us datahoarders get started by upgrading the capacity of our hard drive or SSD in our desktop or laptop. Then we realise that they don't make hard drives large enough for our hobby/obsession. We might then decide we need multiple hard drives, so we buy a few more. Inevitably, we discover we've run out of hard drive bays so we start buying external drives and swapping them around. After doing this for a few months, we start toying with the idea of buying or building a NAS, a few months later we have our NAS and our datahoarding journey is complete. Or is it? For the most extreme datahoarders, they realise that no home NAS or external hard drive setup is ever going to be sufficient. They realise they need a full-on home-server with enterprise storage capability. When I reached this stage, I knew I was going to need a 42U rack to hold all my servers, switches, storage arrays, etc. I didn't want just any old junky rack however, I wanted something decent and nice-looking. I thought I would share a few nice looking racks and servers that I came across during my research. I hereby present, in no particular order, the 10 most beautiful server racks that I have seen to date.
IBM Mainframe Z Series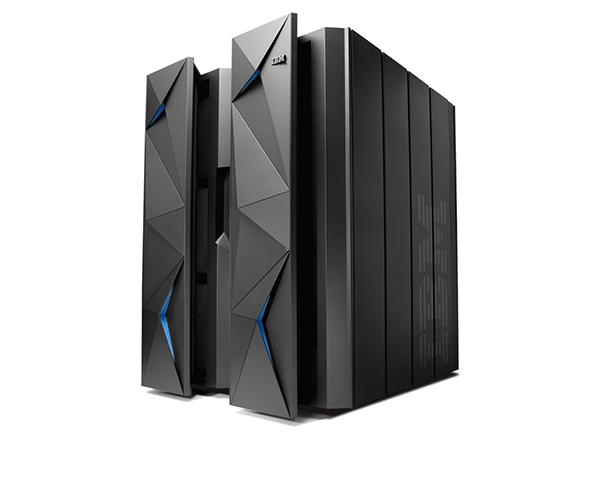 The Z series of IBM mainframe computers have always looked great to me. For many, once the series reached Z12, this was a major step-up in terms of aesthetics. The Z12, Z13, and Z14 all look superb.
These are supercomputers, however, so it's not possible to just buy, say, a Z15 "rack" and mount your HP Proliant servers and Aruba switches in it. Your best bet would be to look out for old Z series machines being sold or scrapped. You could then do a conversion by adding mounting rails to turn it into a standard 42U modular rack. The chance of finding a reasonably priced system for this conversion is slim, however. Remember that these supercomputers cost hundreds of thousands of dollars and even those that are several years old are still insanely powerful.
At the time of writing, you can pick up a Z12 for around $20,000 and a Z800 for around $10,000. I'm hoping prices will continue to fall and at some point, I'm able to find a reasonably priced broken machine. My instinct would probably be to try to repair it so I need to find one that was 100% beyond repair. Perhaps one that has already been gutted.
APC NetShelter CX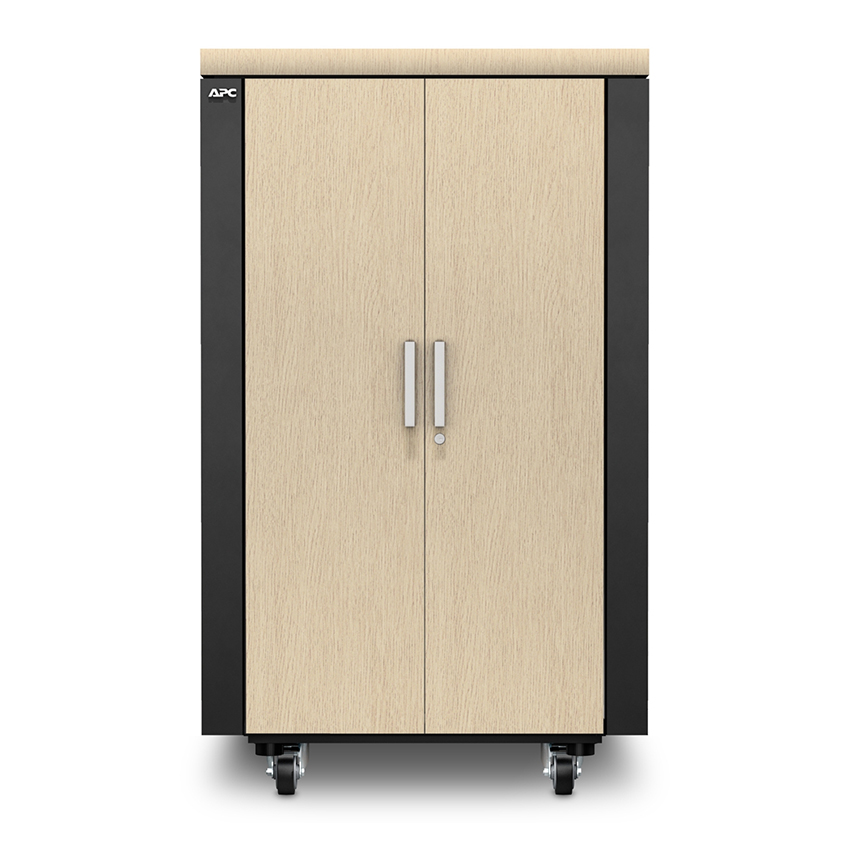 The APC Netshelter CX range was designed to be used in small businesses that don't have a dedicated server room. They are designed to be placed in regular office space, amongst staff. Because it's not practical to have noisy servers and networking equipment disrupting users and preventing phone calls, the NetShelter CX range is sound-proof. It has integrated cooling to make up for the lack of normal air-flow.
I like the design of this rack and although it was designed with business in mind, I think it would look good in the home too. It was clearly designed to mimic the look of the kind of filing cabinet or stationery cupboard that you typically find in the corporate world. I don't think it would look out of place in a bedroom, you could easily mistake this server rack as being a wardrobe. Thanks to the cooling and sound-proofing you should easily be able to sleep in the same room as your server if you had no other option.
The look of this rack is understated, with just the chrome APC logo at the top-left. Likely only people in the IT world would guess what this was if you didn't tell them. In case you're new to datahoarding or IT in general, APC are known primarily for their UPS (Uninterruptable Power Supply) devices and you'll find that logo in server rooms across the globe.
Cray Supercomputer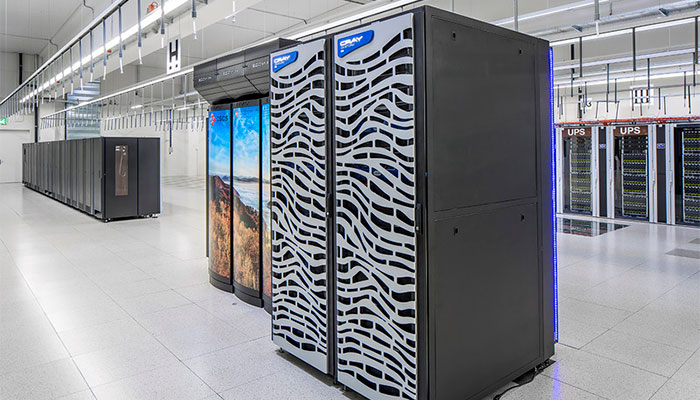 It's embarrassing to admit but years ago, before I was a datahoarder and was new to the IT industry, something confused me. I remember my colleagues talking about how powerful the Crays were. Being new to the business, I foolishly thought they were talking about the Kray Twins. I was confused for weeks, wondering why so many of my seemingly mild-mannered colleagues were so intrigued by the 1960's London criminals. Alas, I was later made aware that their admiration was actually for the Cray Supercomputers that were capable of performing tasks of unimaginable complexity.
Since that day, I've always looked at the Cray machines fondly. I love that their cases never seem to follow the trend and always appear so futuristic. Like with the IBM Z Series, I'd love to find an old, beyond-repair system at auction for not a lot of money. I think turning one of these into a standard 19″ rack would look amazing. Imagine having all your servers and switches spinning away in there, saturating your Internet connection, and all with that beautiful CRAY logo on the front. If Cray ever find themselves in trouble, I'm sure they could ditch the supercomputer market and switch to just making great-looking server racks.
EMC vPlex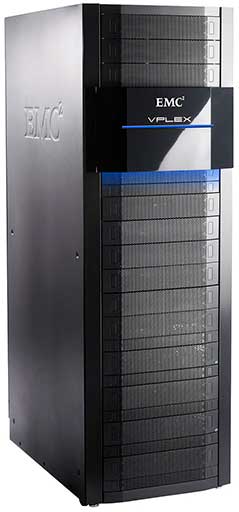 The vPlex range from EMC are not traditional servers but are actually virtual storage arrays. None the less, they look fantastic and their racks would look great in any modern server room. EMC are now actually owned by Dell but there's no way you'd guess that by looking at the aesthetics of the vPlex racks. Traditional Dell server racks look quite bland and very corporate (a bit boring, some might say), but they've luckily not carried their traditional rack designs over to the EMC side of their business. The glossy black panel on the front of these racks looks superb and is really set-off well be the glowing blue LED lighting underneath. To me, these beautiful server racks almost sport a Robocop look. You can imagine the front bezel being Robocop's visor, with the powerful technology protected behind it.
EMC vMAX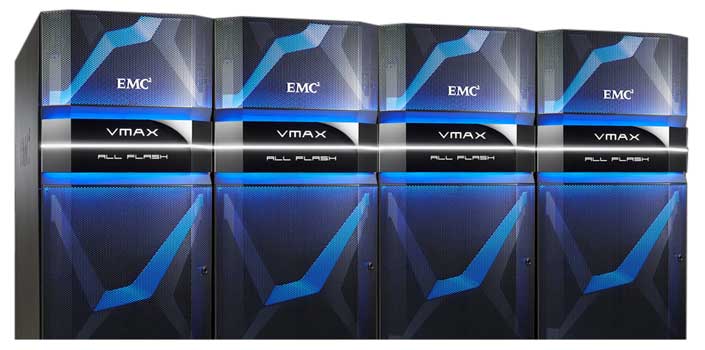 If you were impressed by the EMC vPlex, then prepare to be blown away by its big brother the EMC vMAX. It's reminiscent of the vPlex in many ways, especially with its blue highlights. The vMAX however just turns the dial to 11 in terms of being a good-looking server rack. Unfortunately, like the vPlex, the Crays, and the IBM, you can't simply but the vMAX as a standalone 42U rack and install your own server hardware. The vMAX is EMC's top-tier flash storage array, albeit housed in the beautiful rack. The chances of finding an affordable, failed vMAX unit, I have to say, is pretty slim at best, if not near impossible. This means you're not going to be converting this into a great-looking custom server cabinet any time soon.
There are hundreds of manufacturers creating generic, boring looking server racks and shipping them across the globe. At the moment they're all pretty much competing on price and features. It would be nice to think that some of them would take inspiration from EMC and begin creating some that look good too. Surely there must be thousands of companies, and millions of individuals in the market for a really nice looking server rack.
Omnitronic SRT-19 Audio Rack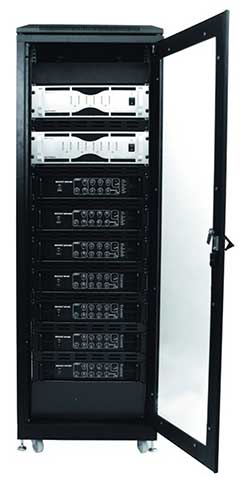 The Omnitronic SRT-19 is actually designed to be an audio rack, rather than a computer hardware rack. You may think that other than its unusually practical wheels that it doesn't look much nicer than any other generic server rack. I actually agree with you.
The beauty of the SRT-19 lies in its simplicity. Because it retains a simple design whilst being well built and well-regarded means it's the perfect blank canvas. If you search online you'll find numerous people who have chosen the SRT-19 as the base for their DIY custom server cabinet. You'd be amazed at what the odd LED RGB strip can do. One of my favourite SRT-19 builds was posted on Reddit some time ago and it was very well received. Take a look for yourself: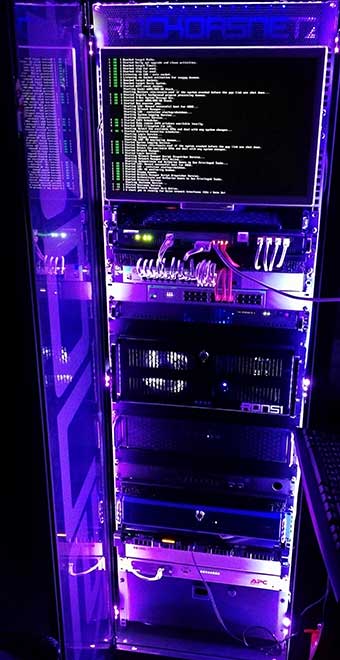 I hope you'll agree that it looks fabulous, the purple illumination and the vinyl cutout decoration are a work of art in my opinion. Whilst some of the other server racks on this list are hard to get hold of, the SRT-19 is something that's readily available to buy and something you can truly transform with a bit of imagination.
Ucoustic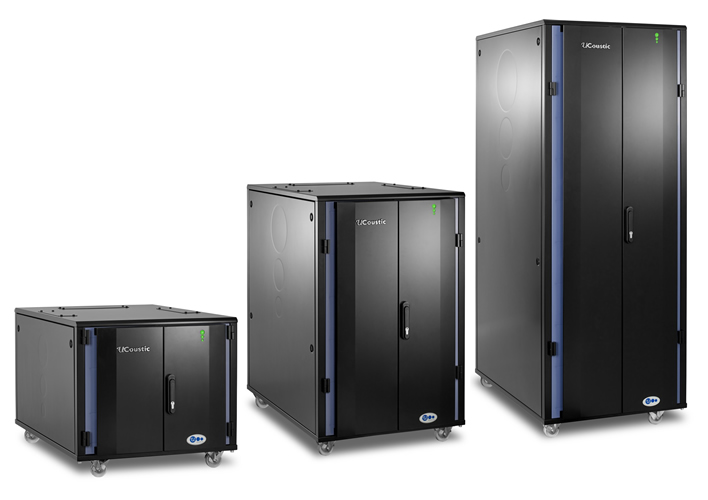 Ucoustic are largely viewed as a practical choice of server rack, rather than for their aesthetic appeal. As the name suggests, they were originally designed to provide noise isolation to the outside world. When the fans are spinning and the doors of the Ucoustic are closed, you can still work away in peace even when the cabinet is in close proximity.
Despite their practical history, I happen to think they look great too. If you have a home-lab, in a utility room or garage perhaps, these would fit right in. Your friend or any other casual observer would probably think your server was either a fridge or a mechanic's tool cabinet.
If you're still not mad about these, perhaps you haven't considered how they would look either sanded-down and repainted in another colour, or even vinyl wrapped, like a car. Their smooth and solid surface really leaves them open to any kind of decoration you like. Even in a commercial setting, you could have these on display behind the glass wall of your server rooms, each once wrapped in vinyl with your company logo or mission statement.
Sun Microsystems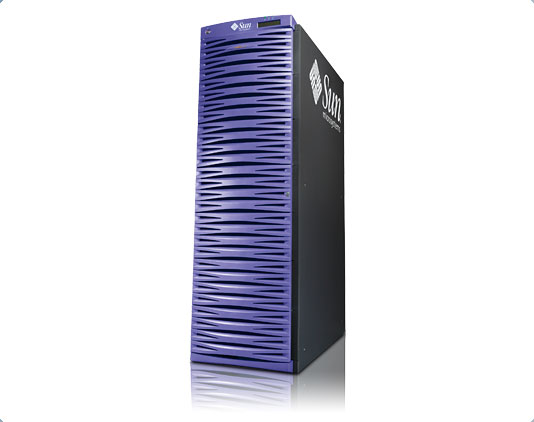 Sun Microsystems were an industry giant in their day and truly released some spectacular server rack designs. Sadly, they're now defunct and have been for several years. Whilst this means you can't buy any of their server racks new, it does mean there are some bargains on the second-hand market. If you're trying to kit-out an entire datacentre then, of course, you're out of luck. If you're just trying to find a single, good looking server rack for your home or small business then an old Sun system is a great choice. On eBay for example, you quite often see these beautiful black and purple racks coming up for auction for not a great deal of money.
If you're wondering what they look like behind the fascia, here's a photo on one that was recently available online: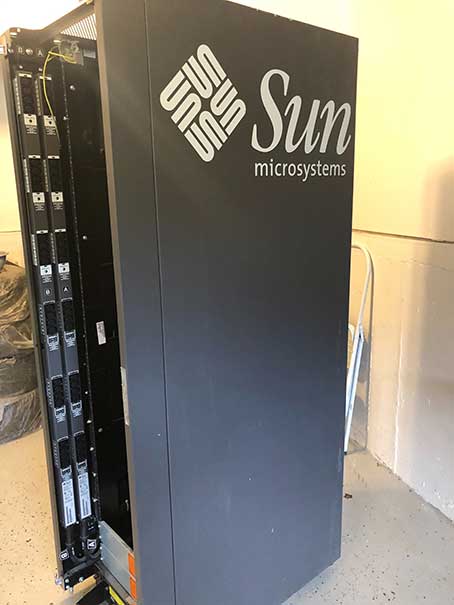 Aside from their lovely appearance, they're also recognised as having fantastic build quality. Many of the older system engineers will tell you that Sun were considered the Apple of the server world. If you had the cash and wanted rock-solid reliability, you went with Sun Microsystems. Hopefully, their racks will continue looking fabulous and standing strong for decades to come.
SysRacks SRF 1000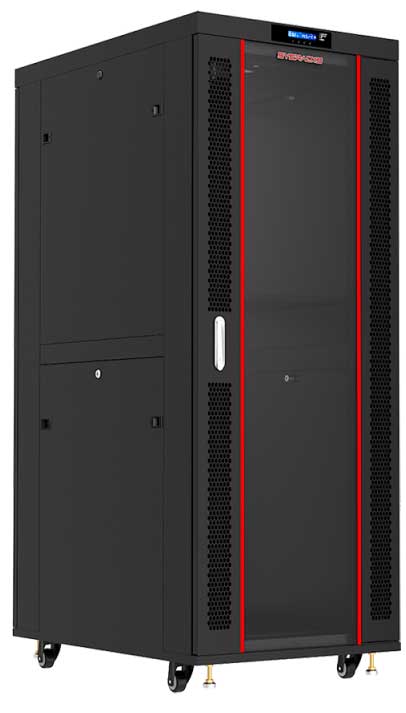 The 42U SRF 1000 from SysRacks is a little on the pricey side (850USD) but I think it looks really smart. It has a contemporary black design with a front glass panel surrounded by red go-faster stripes (surely red stripes make your server go faster, right?).
At the very top of the server rack is the SysRacks bold logo, along with a backlit LCD panel showing the current temperature. You may have guessed that the SRF 1000 comes with a temperature controller to switch on and off its internal fans to help maintain cooling within it. I would love one of these as part of my home datahoarding setup but equally, it would fit right in beside traditional enterprise IT hardware in a datacentre or corporate server room.
Even from the rear and the sides, this server cabinet looks the business. The sturdy yet removable access panels, secured with chrome barrel locks scream "high build quality".
Don't get me wrong, this is certainly not my favorite rack on the list, but I feel it does deserve a place. If nothing else, it is easy to find, unlike a number of other racks I've highlighted. It seems the truly beautiful racks (Cray, EMC, Sun, etc) are hard to source and then require a bit of work converting them to standard server racks, with standard rails. This offering from SysRacks doesn't need you to do that. You can find it as easily as all the other bland, no-brand racks, yet with this, you get a nice aesthetic too.
SGI – Silicon Graphics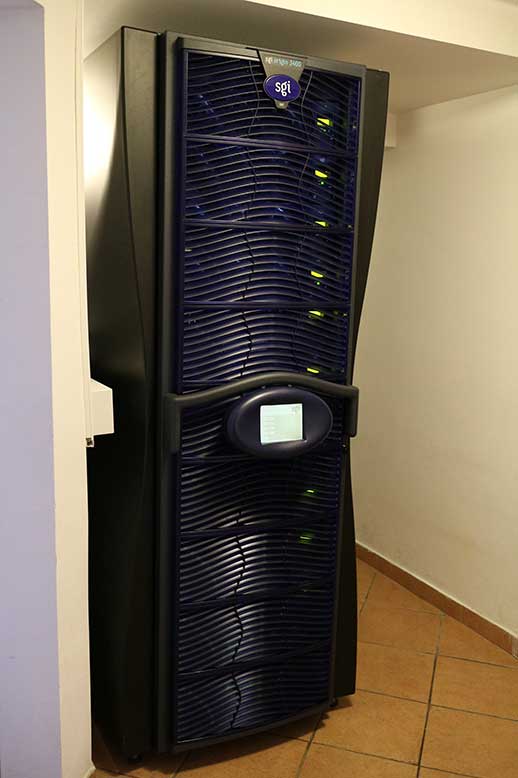 If you've been in the business for a while, you'll probably be familiar with the company Silicon Graphics, or SGI for short. Sadly, they're no longer around but for a substantial amount of time, they were the heavyweights of graphic rendering systems. Over the years I've admired a number of systems and server racks produced by SGI. The image above shows the SGI Origin 3400 which really was a beast of a system back in the day.
I was always drawn toward SGI systems not because of their immense speed or power, but because of the striking appearance of their racks. The Origin 3400 always reminds me of a tall, graceful gentleman, leaning forward slightly. Perhaps even tipping his hat, if that's not too much of a stretch of the imagination.
I'm not sure why SGI had such a way with server rack design but I like to think it's down to their heritage. They got their start in the 1980's and managed to survive what I believe was Hollywood's second golden-era (the 1990's of course!). SGI's were the system of choice for special effects and 3D rendering, both as workstations and also as mainframe supercomputers. Being so closely linked to the arts, media, and cinema must surely have rubbed off on them. Either that or they intentionally went above and beyond, spending more on design and aesthetics because they were all too aware of who their customers were. They knew their systems were going to end up adorning design studios rather than some dingy corporate server room, out of sight in the basement.
Conclusion
We've had a quick look at what I consider to be ten of the best looking server racks for either home or business use. What's quite obvious is that good looking "ready to use" racks are few and far between. The very best looking racks all belong to part of a mainframe computer system and require some adaptation. The chances of us finding these in the wild are fairly slim, but hopefully, you've enjoyed reading this post as a bit of fun.
It would be nice if manufacturers of server racks started to "up their game", and focused on the appearance and design of their racks rather than just their functionality or price. If there's a beautiful server rack that I've somehow missed or a DIY rack that you've built yourself, then let me know. I'll update this post (if photos are available) and might even look out for one to buy myself.